With a thriving café scene, arts culture and festivals every other week, it's no wonder Melbourne's been dubbed the world's most liveable city six years in a row!
After a two-year round the world trip I made Melbourne my home and I reckon it's one of the best places in the world (not biased or anything). There's so much to do in this city, so here are my very top tips for spending 24 hours in Melbourne. I'll give you the things I love doing as a local. None of this tourist stuff (okay some tourist stuff, but it's cool tourist stuff).
9am: FOOD
Take in breakfast at one of Melbourne's hipster cafes. Coffee drinking is a local obsession; start talking beans with any Melbournian and they'll tell you their favourite place. Places I recommend are:
Manchester Press at 8 Rankins Lane (there's a waitlist at the door, you actually need to put your name down to get in)
Captains of Industry at 2 Somerset Place (my secret writing café, shh don't tell anyone)
Thousand Pound Bend at 361 Little Lonsdale St (hosts events and design markets as well)
10am: Walk the City of Literature
Melbourne is also a UNESCO City of Literature, and the city has developed a free walking tour for literature lovers. Pick up a City of Literature walking map from the Wheeler Centre, Melbourne's home for books, writing and ideas.  It's a book lover's paradise, with tiny hidden bookstores in shopping malls to massive bookstores in old cinemas. Stop into the State Library, which is so cool it sometimes runs dance nights under the famous dome. Then meander through some of the local bookstores.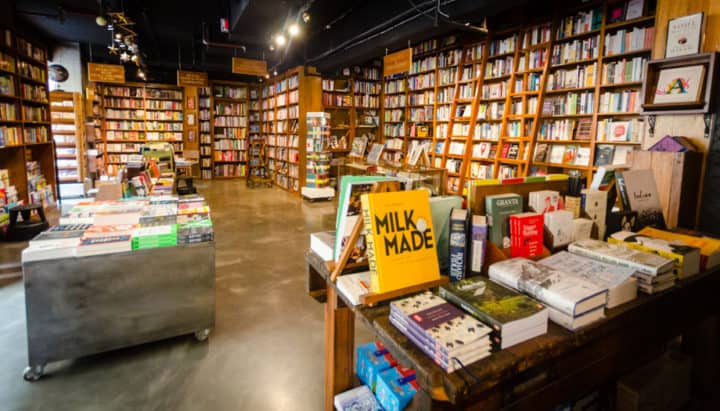 12pm: MORE FOOD
Getting hungry? Dip into dumplings, ramen or spring onion pancake at any of Chinatown's cheap eateries. My favourites include Dae Jang Geum Korean BBQ on Little Bourke Street or handmade seafood dumplings at ShanDong MaMa.
1pm: Explore laneways and street art
Mosey on down towards Flinders St Station without using the main streets. That's right, you can walk across Melbourne using only laneways and arcades. My fav footpath is via Postal Lane, the Royal Arcade, Block Arcade, Centreway Arcade, then Degraves Street. If that's not enough, there's also the vertical laneways of Curtin House and Nicholas Building.
While you're exploring, keep an eye out for Melbourne's other famous landmark: street art. The most famous is the ever changing Hosier Lane, where you might spy artists at work.
2pm: National Gallery of Victoria
Express your inner artiste at the National Gallery of Victoria. Not only is entry free to the main exhibitions, the building also features stunning architecture, including a beautiful stained glass window running the length of the ceiling.
4pm: Gardens and games
If you're not tired, walk across from the art gallery to the Royal Botanic Gardens. Take time out to read a book, get a snack at the Terrace by the lake and watch the boaters go by. The garden features bamboo forests and hidden Japanese gardens, huge trees and butterflies that float past blooming flowers.
Or if it's AFL season, grab tickets to a game at the MCG or Etihad Stadium. Almost everyone in Melbourne loves the AFL (Australian Football League) and tickets are very affordable. If you've never seen it played, it's a tough physical competition played in an oval where guys jump huge heights to take a mark and kick goals. There's nothing quite like it in the world.
7pm: EVEN MORE FOOD
In case you missed it, I love food. So you're starving now from all that exercise. Find out if one of Melbourne's famous food festivals is running. We've got something for everyone including the Night Noodle Markets, Melbourne Food and Wine Festival and there's even a CHEESE FESTIVAL! Why limit yourself to one type of food when you can eat lots of different food?
9pm: Entertainment time
If it's a warm night, go vertical and watch a movie at the Rooftop Cinema. Otherwise hit up one of Melbourne's themed bars including The Croft Institute, set in a retro laboratory at 21 Croft Alley, or Berlin Bar, divided into East and West Berlin at 16 Corrs Lane
Of course, at some point you'll have to sleep…
What's your top Melbourne one-day adventure?